UPDATE, 8 p.m.:
One Dodge County family woke up to a tree on top of their home, but this story covered 200 years of history. Stewart Kelly was resting in his home when Hurricane Michael was coming through and pushed a tree down on his house.
"I didn't realize what happened," Kelly said.
100-year-old Stewart Kelly is happy to be alive after Hurricane Michael knocked down a more century pecan tree in his backyard.
"I heard that thing when it hit," Kelly said.
When the tree fell, Kelly was resting in his house. That's when his kids. Brinda Stanley and Kerry Graham, who live down the road stepped in with first responders.
"We got him moved up to my sister's house, which is just up the road," Stanley said.
Once Kelly moved to safety, two of his seven kids went to survey the damage.
"Heavily raining, and it was just pouring down from the ceilings, just all but two rooms in the house, just saturated," Stanley.
Kelly hadn't gotten a chance to see the all damage until I showed him a picture 13WMAZ snapped.
"'It done a job on it, didn't it?'' I don't think I'm going to be able to go back," Kelly said.
Kelly says he thanks God he is alive, but he doesn't plan on adding another tree to his yard.
"I ain't going to plant another one," Kelly said.
But for Kelly's kids, they say seeing the tree on the ground is bittersweet for them.
"Just a round goal, no net or anything on it, against that tree, and that's where we grew up playing basketball," Stanley said, talking about her memories of playing basketball with the tree.
And even though the memories are gone, Kelly says he's happy his kids and more than 50 grandkids are by his side.
"It makes me feel good," Kelly said.
While Kelly's heart is full, his kids say they will rebuild for their father.
"We just all rally together, that's what we do," Stanley said.
Now contractors have already started the process of getting the tree off the house and will start repairing the roof as soon as they get all of the branches off the roof.
-------
DODGE COUNTY, Ga. -- With the light of day, folks in Dodge County finally get a good look at the damage left behind by Hurricane Michael.
According to Dodge County EMA Director Stanley Stephens, Michael was the worst storm to ever hit the county.
Looking at some of the damage, that becomes apparent.
Stanley says the large tree pictured here is one of many trees to fall across Dodge County. Family members who live in the home said water began to pour through the roof.
The man who lives in the home is 100 years old, as is the pecan tree that landed on top of the home. He was at home with his son and daughter-in-law at the time the tree fell.
YOUR PHOTOS: Hurricane Michael storm damage in Central Georgia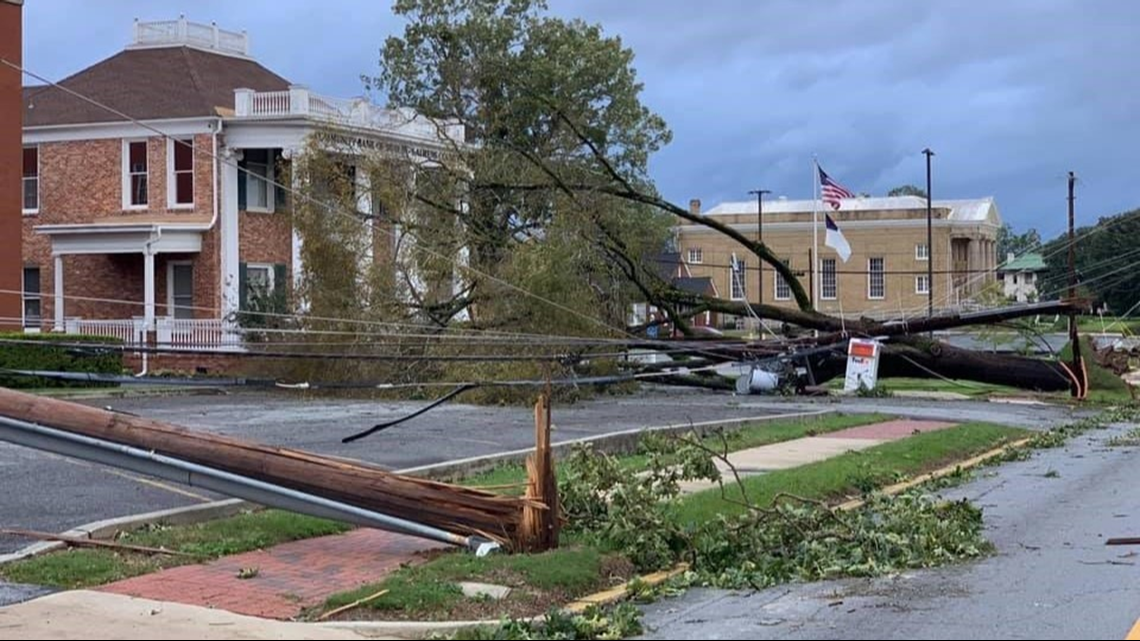 First responders were able to get everyone out safely after the tree fell over.
No one was reported injured in the incident.
Click here for the latest forecast.
► Download the FREE 13WMAZ News app now in the iTunes store or on Google Play.