MACON, Ga. — As Hurricane Fiona spins away from the Turks and Caicos, the National Hurricane Center continues to highlight the area of disturbed weather just outside of the Caribbean as a high chance of development over the next 2-5 days.
The system is now known as Invest 98-L, an official designation that allows specialty hurricane models to run on the system. It has winds of 35 mph and moving west at 9 mph, toward the Caribbean Sea.
Major global models have been developing this storm consistently over the past few days, and bringing it through the Caribbean and into the Gulf of Mexico.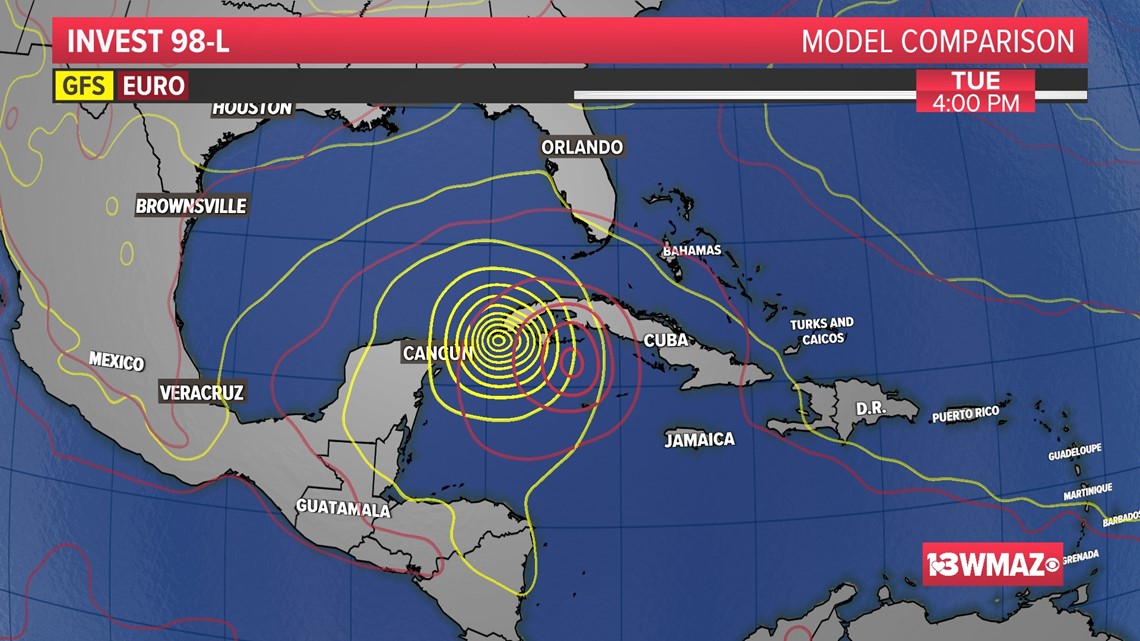 The image you see above are the GFS and ECMWF (Euro) models side by side, showing the center of the storm about 100 miles away from one another. Considering this is a week away and that the two models have been consistent in showing this, it is raising eyebrows in the United States.
The GFS does show a stronger storm than the Euro model does. Nonetheless, both model solutions are concerning for the United States.
It is too early to talk about United States impacts, only that some impacts look increasingly likely day by day.
Specifically for central Georgia, we will have a better idea at the beginning of next week whether or not we will feel any impacts from this system.
The next name on the 2022 list for Atlantic tropical cyclones is Hermine.
STAY ALERT | Download our FREE app now to receive breaking news and weather alerts. You can find the app on the Apple Store and Google Play.
STAY UPDATED | Click here to subscribe to our Midday Minute newsletter and receive the latest headlines and information in your inbox every day.
Have a news tip? Email news@13wmaz.com, or visit our Facebook page