MACON, Ga. — The U.S. Drought Monitor continues to show moderate drought expanding across Georgia, especially across southern and coastal areas.
The most recent update was issued on May 5, showing 23% of state in moderate drought. The week before, 18% of the state was considered to be in moderate drought.
Cities in the moderate drought area include Savannah, Albany, Vidalia, and Tifton. 49% of Georgia is considered to be in abnormally dry conditions, mainly south of a line from Columbus, to Macon, to Augusta.
The city of Savannah is one of many experiencing a rainfall deficit for 2022. Since January 1, the city has received 7.30 inches of rain. The average total rainfall through any given May 7 for Savannah is 13.64 inches, putting the city more than 6 inches down on the year.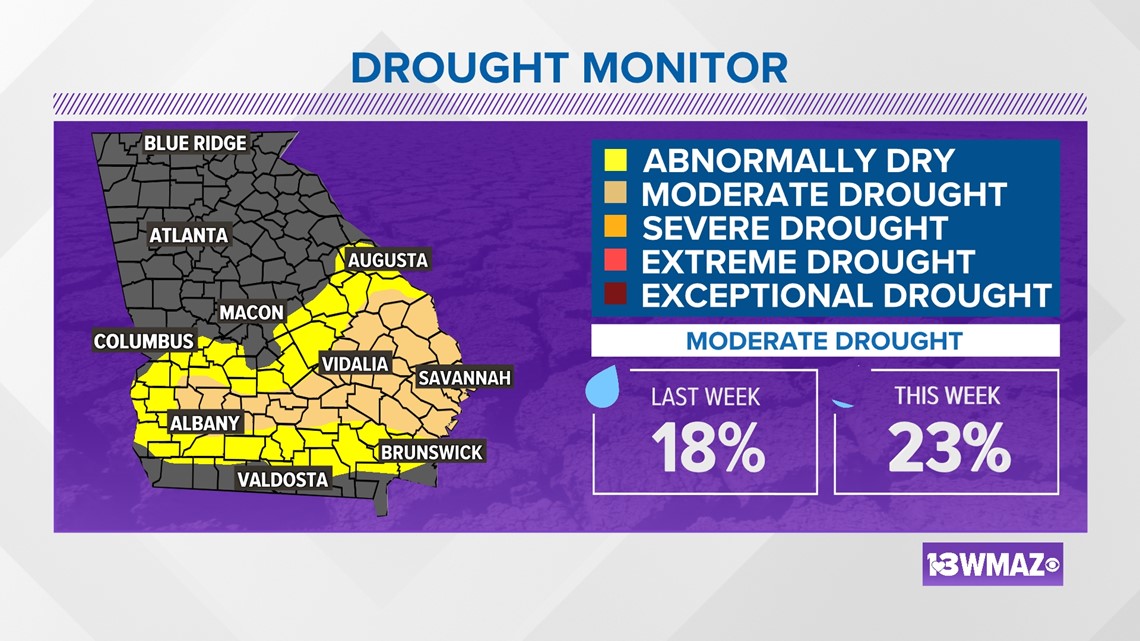 According to the U.S. Drought Monitor organization, moderate drought conditions can cause damage to crops and pastures.
The USDM relies on experts analyze the best available drought data and work with local observers to interpret the information. It also incorporates ground truthing and information about how drought is affecting people
More than 450 observers across the country, including state climatologists, National Weather Service staff, Extension agents, and hydrologists, contribute to the information gathering.
STAY ALERT | Download our FREE app now to receive breaking news and weather alerts. You can find the app on the Apple Store and Google Play.
STAY UPDATED | Click here to subscribe to our Midday Minute newsletter and receive the latest headlines and information in your inbox every day.
Have a news tip? Email news@13wmaz.com, or visit our Facebook page.