The Valley and other parts of the state were being soaked Tuesday morning as tropical depression Rosa shoved moisture across Arizona.
Rainfall began Sunday evening and continued throughout the beginning of the workweek, but the heaviest stuff was falling early Tuesday.
Warnings were issued Tuesday as streets flooded and some Valley schools closed.
Remember to avoid driving into flooded roadways. As National Weather Service says: Turn around, don't drown.
NWS Flagstaff says "things are starting to quiet down this afternoon as the main moisture plume shifts east."
Scottsdale firefighters are working to rescue a man from floodwaters near McDowell and Miller roads.
NWS Phoenix says the rain is "more scattered than before" with the heaviest hitting between Phoenix and Globe.
There are 25 road closures, including parts of 19th, 7th and 35th avenues, after this morning's rain in Phoenix:
- 11th Street at Hatcher Road
- 19th Avenue at Dobbins Road to South Mountain Avenue
- 19th Avenue at South Mountain Avenue
- 19th Avenue at McDowell Road to Almeria Road
- 34th Street at Jomax Road
- 35th Avenue at Cactus Road
- 40th Street at Baseline Road to Beautiful Lane
- 44th Street at Shea Blvd.
- 48th Street at Warner Road
- 48th Street at Thistle Landing to Ray Road
- 48th Street at Elliot Road
- 51st Street at Elliot Road
- 66th Street at Mayo Blvd.
- 7th Avenue at Coral Gables Drive to Greenway Parkway
- 7th Avenue at Greenway Road
- Canterbury Drive at Thunderbird Road to North of Thunderbird Road
- Cholla Street at Tatum Blvd.
- Coral Gables Drive at Thunderbird Road to North of Thunderbird Road
- Dobbins Road at 10th Avenue to 19th Avenue
- Dobbins Road at 27th Ave.
- New River Road at Circle Mountain Road to Saddle Mountain Road
- North Valley Parkway at Dixileta Drive to Sonoran Desert Drive
- Northern Avenue at 19th Avenue to 23rd Avenue
- Oraibi Drive at 47th Avenue to 48th Avenue
- Pinnacle Peak Road at Tatum Blvd.
Southbound Hayden Road is closed in Scottsdale between Chaparral and Camelback roads due to heavy rain and high water, Scottsdale city officials said.
Good Samaritans are filling sandbags and helping pull out vehicles in the aftermath of cars being stuck in a flooded street near Cholla Street and Tatum Boulevard.
"One of the rainiest days on record," NWS Phoenix says.
According to NWS Phoenix, it's the second wettest October day and ninth wettest day ever with 2.24 inches of rain at Sky Harbor so far.
The Gilbert Fire and Rescue Department is investigating a false alarm at the Tutor Time at Recker and Guadalupe road caused by a rain leak.
The underpass at Peoria Avenue and the I-17 has reopened in both directions after it was flooded by the rain earlier in the morning.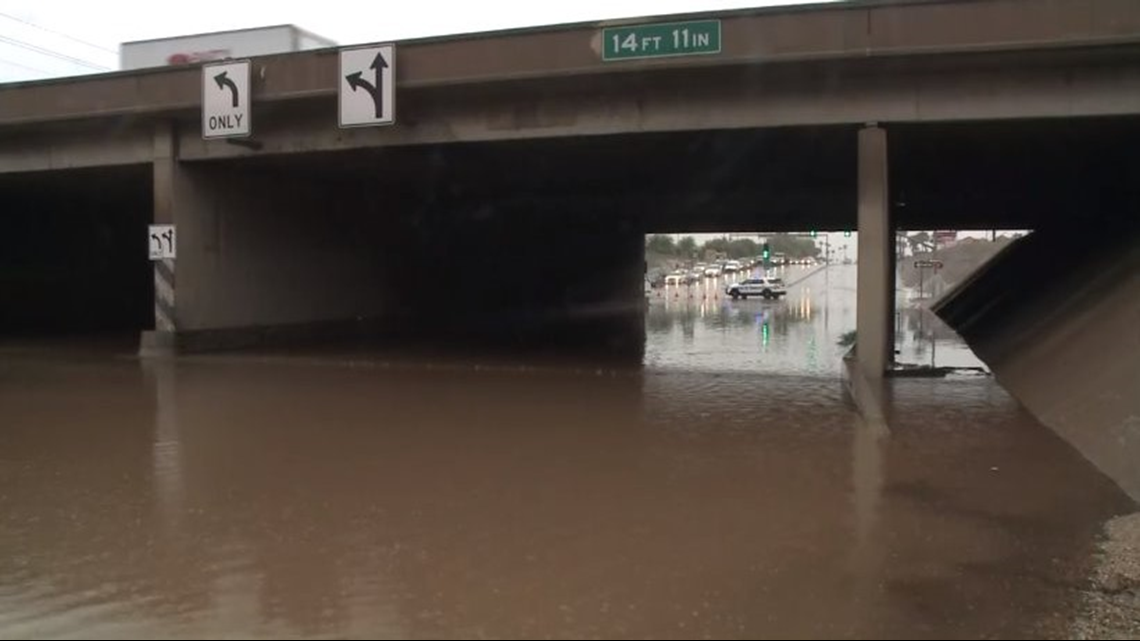 School has been canceled at Ashland Ranch Elementary School in Gilbert. School officials say the school is without power and parents are being notified to come pick their students up.
A flash flood warning has been issued for portions of central Navajo County.
All Maricopa County Colleges are closed today due to "extreme weather and dangerous driving conditions," officials say. Campuses will resume regular activity tomorrow.
City of Scottsdale says the Cactus Aquatic & Fitness Center is closed due to standing water.
Waterman Wash in the Rainbow Valley area has flooded the only road in and out of the area. Team 12's Nicole Zymek was told the people who live on the other side of the floodwaters are stuck until the water recedes.
The Arizona Department of Public Safety says troopers have responded to more than 80 crashes this morning.
Rain to the north and west of Tucson, NWS Tucson says.
Sky Harbor has received 2.22 inches of rain since midnight. A flash flood warning in effect for Maricopa County until 3 p.m.
NWS Flagstaff says "numerous reports of 3+ inches" of rain between Phoenix area and southern and eastern Yavapai County.
Phoenix rainfall total now at 2.20 inches.
City of Scottsdale says all unbridged crossing of the Indian Bend Wash are closed. Running water has closed McCormick Parkway between Scottsdale and Hayden roads.
Majority of the rain is spreading north and east, according to NWS Phoenix.
"Remember, even if the rain has ended in your area, washes will still be running so use extra caution!" NWS Phoenix says.
NWS Phoenix says today (so far) is the 10th wettest day ever for Phoenix.
Sky Harbor has recorded over two inches of rain today, making it the 5th wettest October (so far) in Phoenix.
SR-51 flooded at Cactus Road. ADOT says there's standing water on northbound right lanes, but the highway remains open.
October rainfall total moves into 7th place with 2.15 inches recorded so far.
Rainfall total in Phoenix continues to climb. It's now at 1.67 inches. NWS Phoenix says this is already the 8th wettest October on record.
NWS Flagstaff is warning of heavy rain accumulation, 1 to 2.5 inches in some areas, between Flagstaff and Phoenix.
And Phoenix has officially crossed the inch and a half mark for total rainfall today.
Phoenix's rainfall total keeps rising (now at 1.43 inches) as radar shows most of the rain across the central Valley.
Phoenix at 1.35 inches of rain now.
A third elementary school, Rainbow Valley Elementary School in Buckeye, has closed today due to flooding.
Phoenix has seen over 1.21 inches of rain so far this morning with more still to come.
Desert Horizon Elementary School in Phoenix is closed due to severe flooding. According to a message on the school website, the school is closed as it assesses the damage caused by the flooding.
Pendergast Elementary School District says Rio Vista Elementary School has no power or phones as of 8 a.m. due to the storm and will also be closed today.
Today's rainfall record of .60 inches set back in 1981 has been broken at Phoenix Sky Harbor, which has recorded over an inch of rain since midnight.
A flash flood warning has been issued for the Valley until 10:30 a.m.
Peoria Avenue is closed in both directions at the I-17 because of flooding.
A flash flood warning is in effect for Maricopa until 1:15 p.m.
Cordes Junction has seen .74 inches in the last 6 hours while Sunset Point has seen .66 inches and Payson .57 inches.
Flood advisory in effect until 10:15 a.m. for Gila Bend.
NWS Tucson says the "main focus of precipitation" is west through north of the Tucson metro area. Scattered showers and isolated thunderstorms are expected to continue across southeastern Arizona this afternoon and evening.
Phoenix is nearing that inch mark in terms of the rainfall we've seen so far courtesy of tropical depression Rosa. And more is still to come.
The record rainfall for today is .60 inches set in 1981. That record should be broken today.
National Weather Service Flagstaff says significant rainfall is expected in some areas of Northern Arizona, but "forecast totals are considerably lower than previous forecasts." Flagstaff now forecast to see up to an inch while the greatest amounts will be along and south of the Mogollon Rim at 1 to 2 inches.
A flash flood warning has been issued for Gila Bend and surrounding areas until 9:45 a.m. A urban and small stream flood advisory is in effect for the Valley.
The roads around the Valley are soaking wet this morning, and if you forgot that umbrella walking into work, you probably got drenched.
Showers will continue through the morning, with brief pockets of some heavier precipitation.