MACON, Ga. — We are actively following severe thunderstorms throughout Central Georgia. Here is a look at the information that has come into the 13WMAZ newsroom.
The majority of the storms have moved out of Central Georgia, but there is a chance of another string of storms later tonight. According to our Meteorologist Jordan West, it does not appear as though those storms will be as severe.
All information is preliminary and can change throughout the night.
Georgia Power is reporting power outages throughout Central Georgia as of 9:20 p.m.
At 9:20 p.m., Georgia Power is reporting 644 customers without power in Bibb County, but earlier tonight at around 7:45 p.m, around 3,061 customers were without power. There are just under 71,500 customers of Georgia Power in Bibb County.
In Upson County, Georgia Power says only 55 customers are without power as of 9:20 down from 1,400 customers earlier at 7:45 p.m. Upson County has 3,000 Georgia Power customers.
As of 9 p.m., 424 customers of Georgia Power are without power in Treutlen County, which is out of just under 1,500 customers in total. Macon County has 226 customers without power out of just over 3,589 customers.
In Crawford County, 20.9% of customers served by Flint Energies have their power out as of 8 p.m.
In Taylor County at around 9 p.m., 18% of customers with Flint are without power. 111 Georgia Power customers are without power out of just over 2,500 customers.
Some minor outages are reported in Monroe, Jones, Houston and Wilcox counties.
Despite a large number of people without power in Bibb County, EMA director Spencer Hawkins said that there have not been any significant reports of damage, but they will continue to monitor.
While the storms have by-and-large passed, there is still a chance for some inclement weather. He recommends you stay 'weather aware' and subscribe to MBC alerts. We will also be continuing to follow severe weather if some hits later today.
If you need to report any storm damage, fallen trees or roads that are blocked by debris in Bibb County, you can call 478-751-7400.
According to Twiggs County EMA director Jack Wood, damage is not too bad in Twiggs county. There is a tree down at Flat Creek Road and Bullard Road and I-16. There is also a tree hanging on Highway 80 and Turkey Creek.
Wood says that the public should know to take caution while driving because it's getting dark and trees are down.
According to Baldwin County EMA Director Wayne Johnson, there are reports of a tree blocking one lane of Highway 22 West toward Nelson Road in Baldwin County.
Monroe County EMA Director Matt Jackson says that there are downed trees and some possible power lines down, too.
Jackson says that there are some trees down towards the center of the county including places like Ford Road, Shy Road, 46 Floyd Road, 42 South and Josey Road.
The public should avoid areas with downed trees because powerlines could also be on the road. You might not be able to see them, but it is important to not drive over them.
At around 8:24 p.m., we are getting reports of all lanes blocked on State Route 96 with all lanes blocked, both eastbound and westbound. Georgia Department of Transportation West says that they are estimating that the roads will be blocked for around an hour.
They say that emergency personnel are on the scene. Georgia's Department of Transportation is responding.
There are also reports of several trees down outside of Lamar County.
We are also hearing reports of a tree falling down on a power line on Collier Road starting a fire.
A large tree also fell down on a home in the 700 block of Greenwood Street in Lamar County.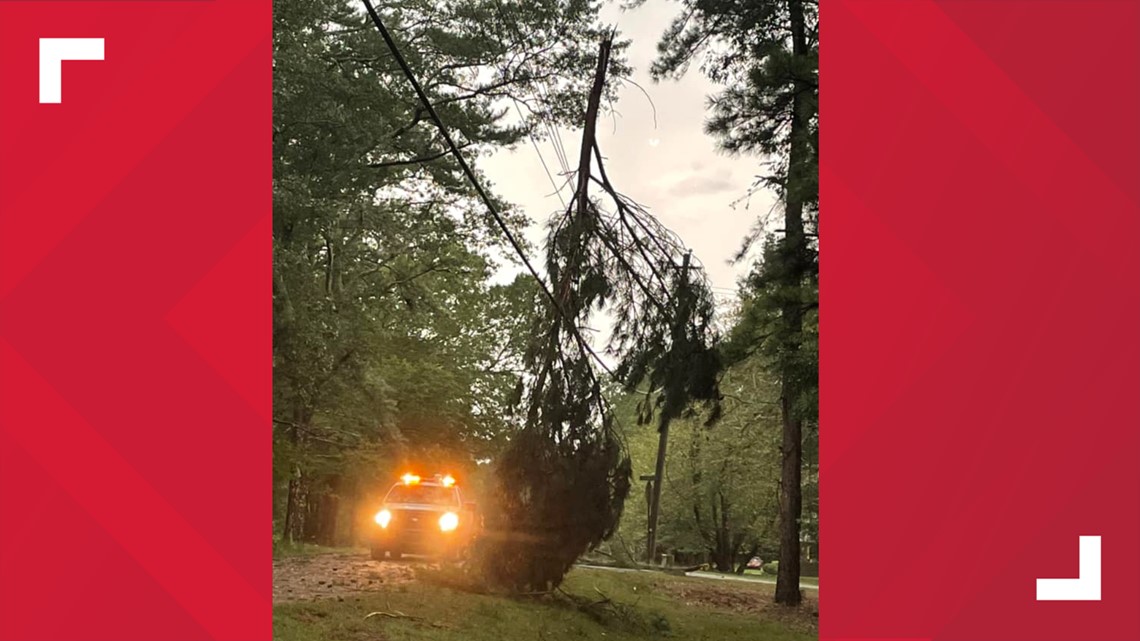 For the most up-to-date information, you can follow Jordon West's coverage of the storm rolling through the area: