PEACH COUNTY, Ga. — It only took minutes for Vanessa Daniely's house on Greer Road to be completely torn apart by a tornado that hit Peach and Crawford County.
RELATED: EF-2 tornado confirmed in Crawford County
Now, the community she's devoted her life to is hoping to piece as much of it back together as they can.
"I miss her a lot," one of Daniely's students, Ramon Smith, said. "I thought that she was coming today, but she ain't coming today."
He knew something was wrong when Daniely wasn't at school on Monday.
"She always on time, and she's ready," Smith said.
Daniely was hospitalized after a tornado destroyed her house.
PHOTOS: Neighbors clean up after storm destroys home on Peach/Crawford line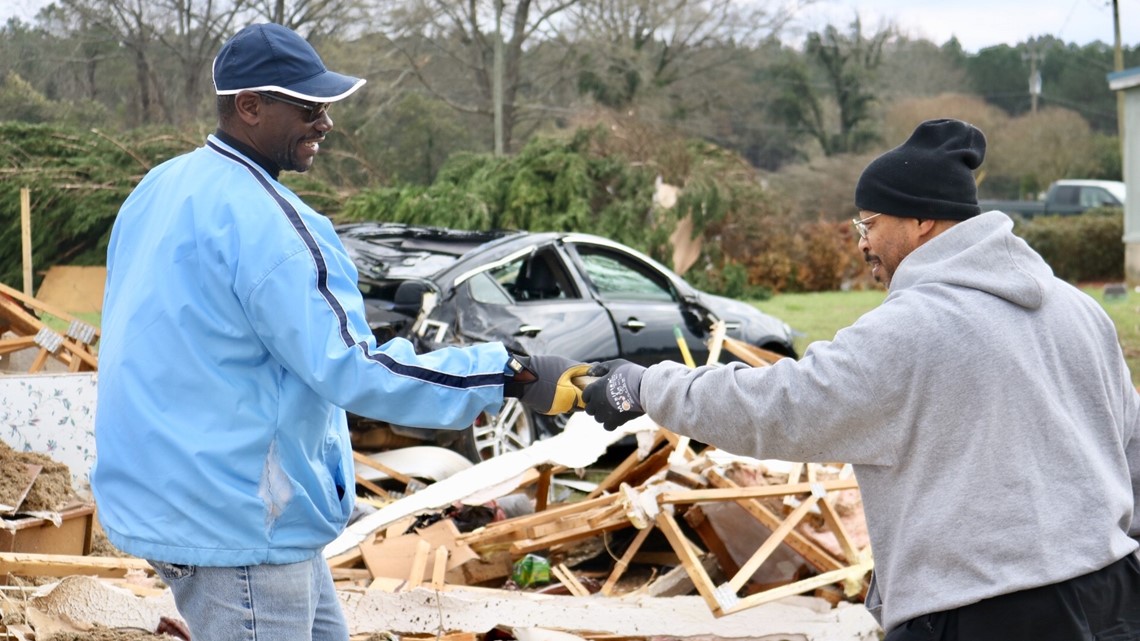 Her brother, Lonnie, says she tried to take cover in her bathtub, but didn't make it in time.
"It snatched her out of the trailer, and it threw her out into the yard. Basically where the trailer split, she was in between it," he said.
Rita Kendrick has taught special education with Daniely for 13 years and calls her an outstanding teacher.
"She's a very patient person, her kids can come talk to her about anything, and they know whatever they tell Ms. Daniely, is going to stay with Ms. Daniely," Kendrick said.
Now, she's calling on the community for help.
"It is very important that we come together as Peach County High School faculty and staff and community to help her our because she lost everything," Kendrick said.
MORE: 'I'm glad she's alive:' Woman survives after home gets wiped out by storm
Principal Ken Hartley says they're accepting donations on her behalf.
"Ms. Daniely, we're thinking about you, we're ready for you to come back when you're better, just glad to know that you're okay," Hartley said. "We can replace that house, we can replace that car, but we can't replace you."
Smith also had some kind words to share for Ms. Daniely.
"Ms. Daniely, I love you, and I want to know when you're coming back, and we all miss you," Smith said.
Daniely's family members say she broke her ankle bone, but she's doing okay.
You can drop off donations for her at Peach County High School's main office.