On Saturday, you'll likely have a better chance to see the white stuff.
A Winter Storm Warning has been issued for parts of north Georgia through 4 p.m., including Catoosa, Dade, Gordon, Walker and Whitfield counties through 4 p.m.
The winter storm warning will continue through 7 p.m. for Banks, Cherokee, Dawson, Fannin, Forsyth, Gilmer, Hall, Lumpkin, Murray, Pickens, Towns, Union and White counties until 7 p.m.
The National Weather Service has issued a winter weather advisory for areas north of Interstate 20 with up to an inch of snow possible through 4 p.m. over portions of in the north metro area.
WHERE ATLANTA SPEAKS: Text us your snow pics and video at 404-873-9114!
The counties affected by the winter storm advisory include Barrow, Bartow, Chattooga, Cobb, DeKalb, Floyd, Gwinnett, Jackson, Fulton, Paulding, Polk, Clarke, Madison, Oconee, Oglethorpe and Walton.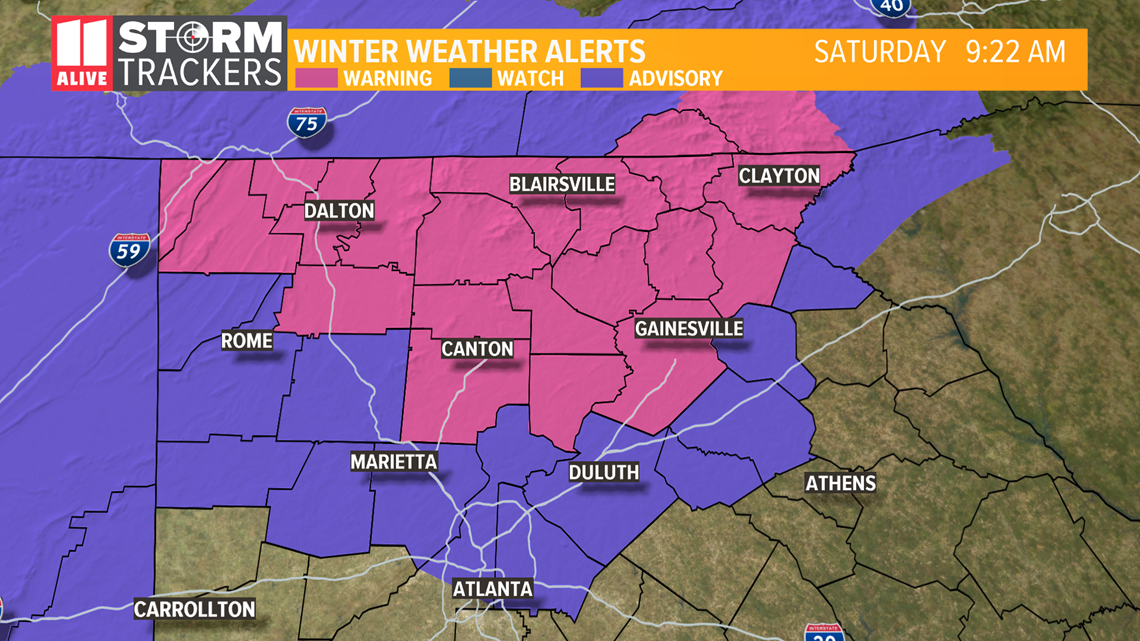 Some accumulating snow has fallen across much of metro Atlanta over the morning hours.
As the temperature moves above freezing, 11Alive chief meteorologist Chris Holcomb says there may be some rain as the precipitation comes to an end during the afternoon hours.
Temperatures in the metro Atlanta area are expected to remain above freezing.
There may be some travel impacts in the heavy bursts, particularly in the higher elevated areas. The Georgia Department of Transportation said they are currently discussing preparations and that they have plans to brine the roadways in northwest counties this afternoon.