MACON, Ga. — The first day of summer is packing a punch in central Georgia. Tropical Depression Claudette is still causing a mess in the Southeast. The center of the system is moving east across I-20 as of 5:30 am.
TORNADO WATCH: Cancelled for Central Georgia
FLASH FLOOD WATCH: A flash flood watch is still in effect for Upson, Taylor, Macon, Crawford, Peach, Monroe, Bibb, Jasper, Jones, Putnam, Baldwin and Hancock counties until 8 pm Sunday. Heavy rain is possible with these storms. Roads may become flooded, and trees may fall due to the oversaturated ground.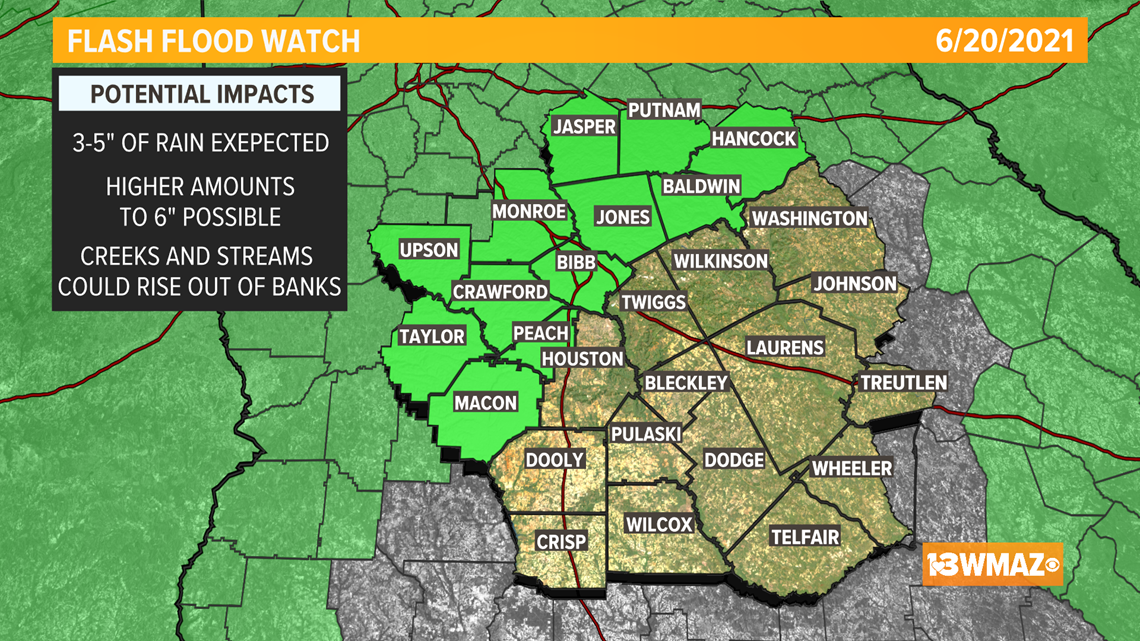 On and off rain and storms will persist through the early evening with the heaviest rain and best chance for severe weather for the morning into the early afternoon.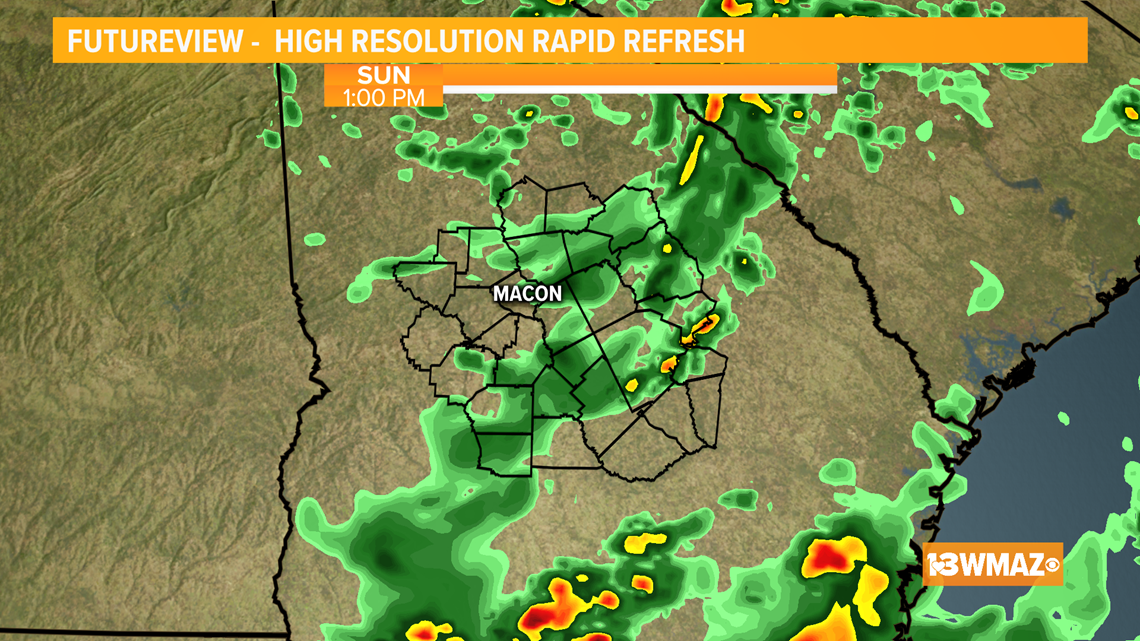 Any storms that manage to become severe will be capable of producing a brief tornado, heavy rain and gusty winds may be possible this afternoon as daytime heating makes the atmosphere more unstable.
As of late morning, the Storm Prediction Center shaved off much of our severe threat, but our southeastern most counties still lie between a level 1-2 risk through the afternoon.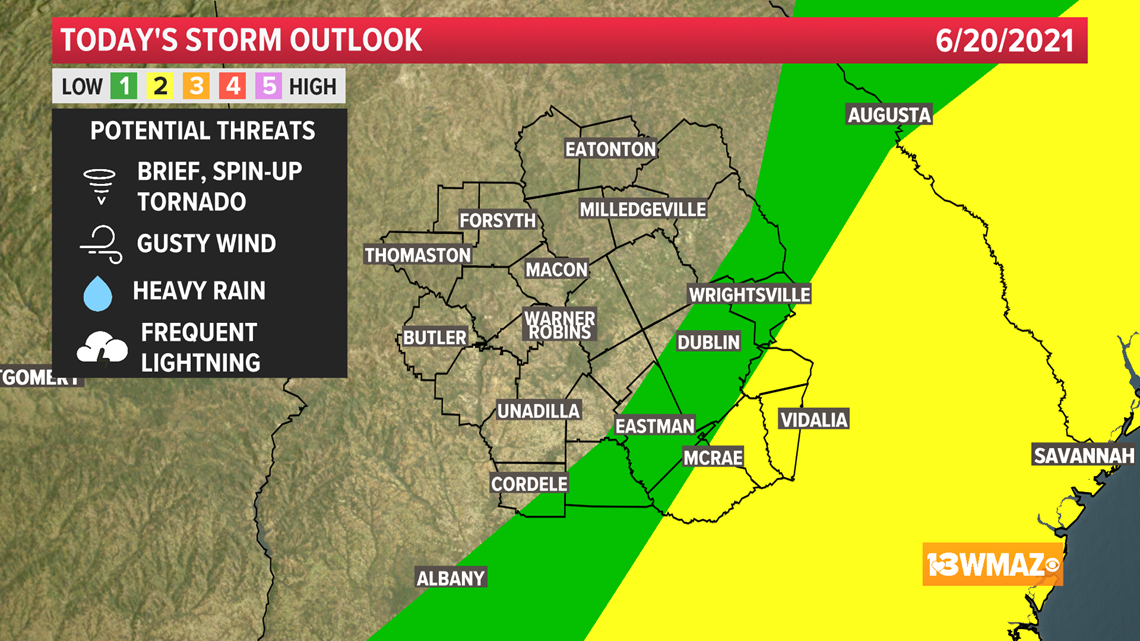 At the end of all of this late Sunday night, we could see 2-3 inches of rain and flooded roads.
Rain chances only pick back up on Tuesday when a cold front moves through central Georgia. This could cause more flooding problems through the midweek.
As always, make sure to have multiple ways to get severe weather alerts, and keep it on 13WMAZ on-air or online for the latest.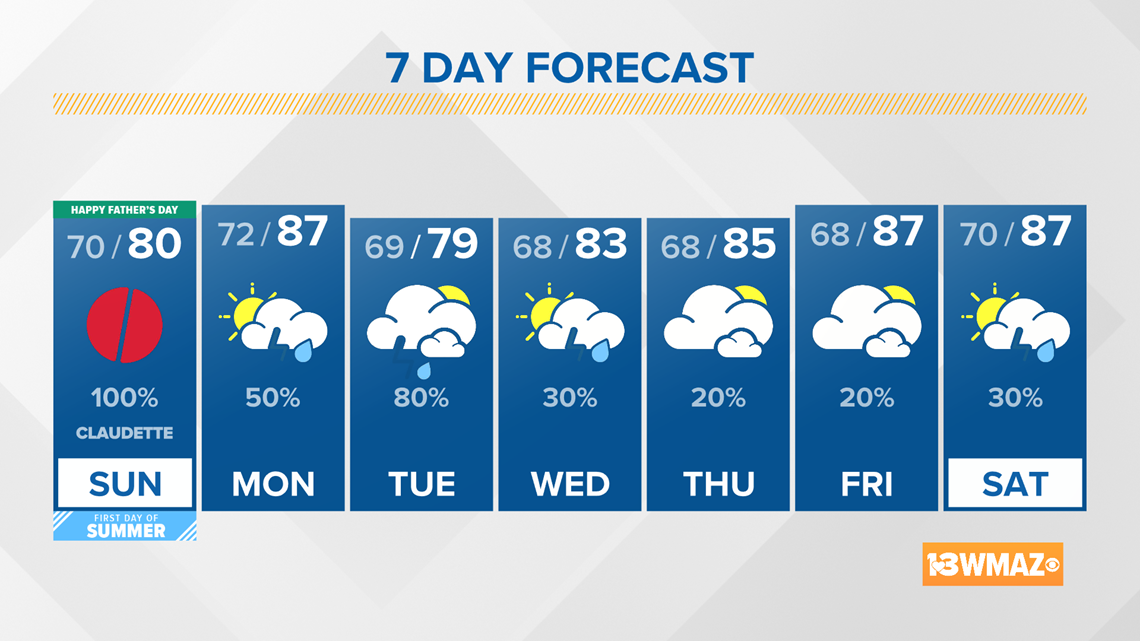 STAY ALERT | Download our FREE app now to receive breaking news and weather alerts. You can find the app on the Apple Store and Google Play.
STAY UPDATED | Click here to subscribe to our Midday Minute newsletter and receive the latest headlines and information in your inbox every day.
Have a news tip? Email news@13wmaz.com, or visit our Facebook page.