"It's been a long year, and I can think of nothing more energizing to help advance our recovery and to boost our economy than by bringing the 2021 midsummer classic back to the Mile High City," Denver Mayor Michael Hancock said during an official announcement Tuesday.
The July 13 game was set to be played in Atlanta, but Major League Baseball (MLB) pulled out last week after a new voting law was enacted in the state.
The last time the game was played in Colorado was in 1998, but the city had been in talks with MLB to host a future game and submitted a bid for 2024. The Rockies had supplied a detailed plan for hotel, event space and security that took months to assemble, and MLB staff had already made several site visits to Denver.
"When [MLB] reached out last week, we couldn't say no," Hancock said. "All that advanced planning ... came in handy. And we are definitely ready to go, hosting this event is about so much more than the Home Run Derby or the game itself."
Hancock said there will be plenty of family-friendly events throughout the week as well as volunteer opportunities. The economic benefits also come at a crucial time and will help some of the businesses hardest hit by the COVID-19 pandemic.
"Our Office of Economic Development International and Trade estimates the All-Star Game and the festivities around would add about $190 million in revenue this year in Colorado," Gov. Jared Polis said.
A spokesperson for the Maven Hotel said they've already received bookings for the week of the All Star Game. Maven Hotel's Director of Sales and Marketing Mustafa Menekse said they were happy the news finally became official.
"Baseball for us is a huge demand generator," Menekse said. "You know, the fans come in [from] all over the country and stay-in and dine-in. It [the All Star Game] will be great for the hospitality industry as well as the city of Denver."
Currently, only a limited number of fans can attend Rockies games, but Polis said Tuesday they expect a "sold out" game in July because by then, anyone who wants a COVID-19 will have been able to get one.
"Every American who wants to be vaccinated will be able to get it by the end of May, which means immunity by mid-June, so there's no concerns from that front," Poils said. "I think everybody expects a fully packed sell-out stadium in July, and that's going to be good for Major League Baseball, good for Colorado and an exciting experience for fans."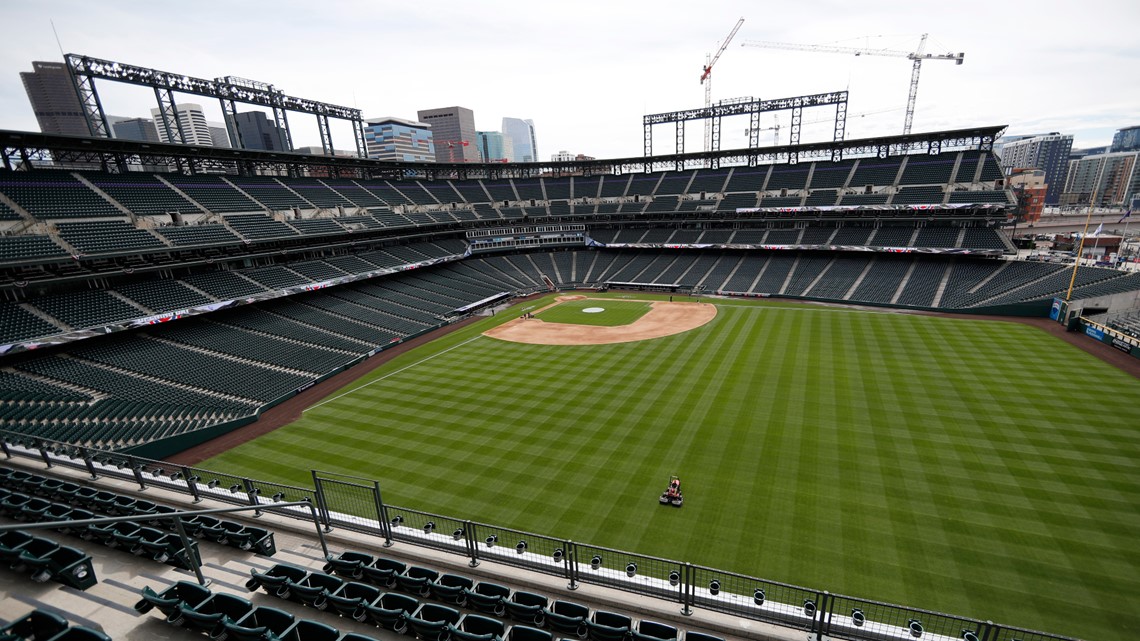 News that the game will have a full house resonated with Blake Street Tavern Owner Chris Fuselier, who hoped that means the same will be said for area bars and restaurants.
"To hear that most people will be vaccinated come the end of June, fully vaccinated, then we can have a fully packed stadium, which means a fully packed bar," Fuselier said. "We just need normalcy, because it's been such a rough a devastating time for my staff, our customers, for everyone."
Rumors began swirling over the weekend that Colorado was among the places where the 2021 game could be moved.
On Sunday night, Polis' office released the following statement to 9NEWS:
"The governor knows that Colorado is the best home for the All-Star Game, especially because Colorado also has strong laws that enable voters to cast their legal ballots any way they choose including through mail or in person. The Governor will be burning up the phones the next few days to see if there is an opening to bring the All-Star game to Denver."
The Los Angeles Dodgers remain the host of the 2022 All-Star Game, as previously announced. It will be the first Midsummer Classic at historic Dodger Stadium since 1980.