BUTTS COUNTY, Ga. — In 1825, the Creek Nation ceded over the land where Indian Springs sits today.
Native Americans that lingered after that were forced off the land. Almost 200 years later, the park still pays homage to its past and showcases some modern amenities.
Indian Springs is one of the oldest parks in the United States. It's aged well.
You have a lot to see and do in the area.
The land once owned by the Creek Nation has gone through its ups and downs, but the water that flows out of a natural spring was always a draw.
Detrilus Carter drove from Stone Mountain to Butts County to get the H20 that Native Americans claimed had healing powers.
"I felt the water restored some of that stuff I lost getting older," he chuckled. "Those aches, those pains, those grunts, those winces."
Sulfur doesn't have the most pleasant scent, but head ranger Stephen Davis had to do his taste test.
"This is an artesian well - it's constantly flowing, and people have been coming here for centuries to collect this water," he explained. "You'll notice an eggy smell. The water comes across limestone, and when it comes up from being pressurized, it picks up the sulfur in the water."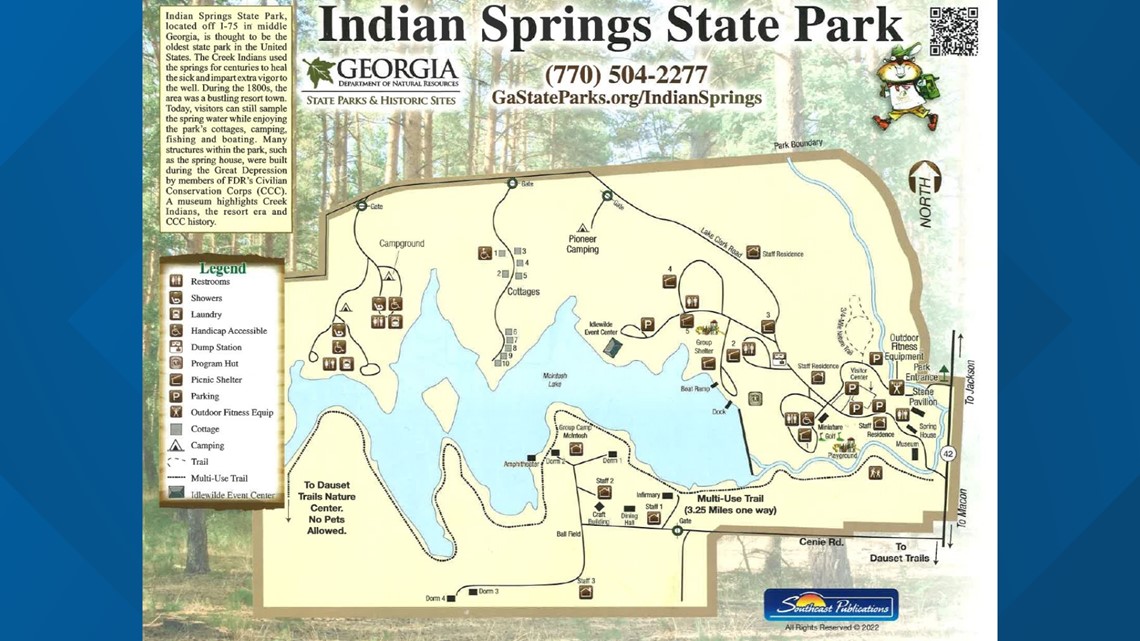 "You smell the sulfur more than you taste it, but as far as the taste of water, it tastes really good," Detrious said.
Karen Eastwood can bear the water but downright brags about Indian Springs. She and her family have camped here for decades.
"This park is cool! There is a lot of history close around, and there are a lot of things to do. There's Jerrell Plantation to visit and the little shops here at Indian Springs," she rattled off.
If hiking is on your to-do list, check out the walking trail - it's three miles long and hugs the 105-acre lake. You can also wet a line off the bank or rent a kayak or John Boat. The blue-green waters are so full of fish that they've got a daily limit on bass.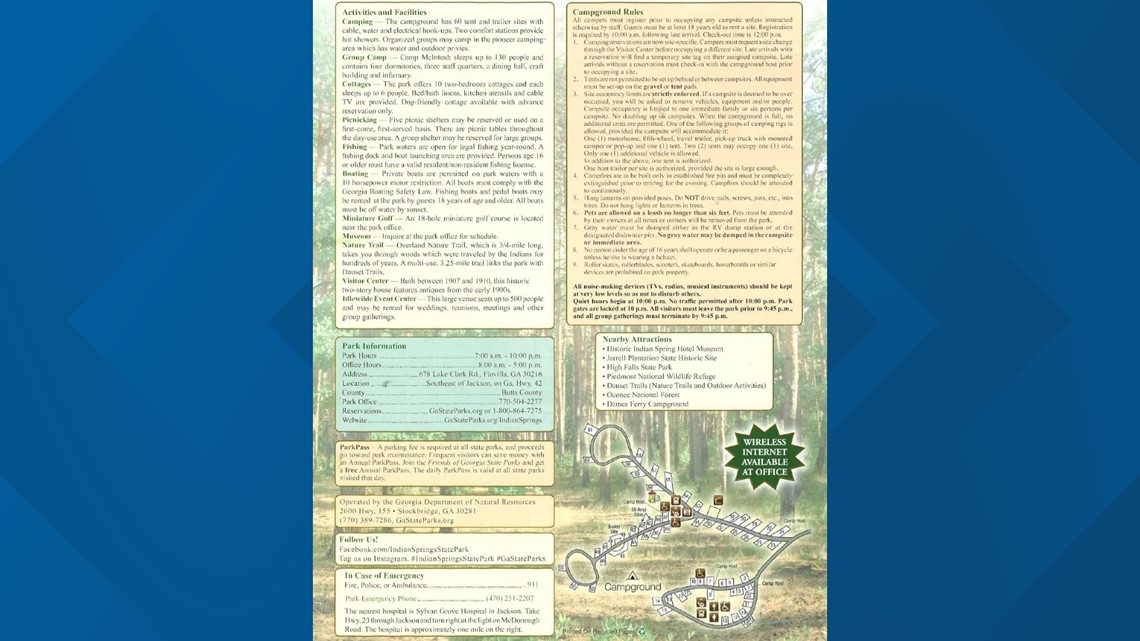 The overflow from the dam at the lake feeds Sandy Springs, which is also part of the property.
Folks love to climb over the rocks and find pockets to cool off.
You'll want more than a day trip to explore the museum or the town that today sports many antique shops but once brought in folks from all over the country with its resort hotels.
Ten cottages underwent renovations a few years ago, and the view off the back porch is downright picturesque.
You get a feeling that you're in the woods - in the forest - but within ten minutes, you can be in a town and go to a grocery store," Davis said.
It's the best of both worlds - a special piece of land just waiting for you to soak in its historic and natural setting.