MACON, Ga. — We'll continue with the cloudy skies through the day Thursday with a sprinkle or two in a few spots. Look for high temperatures in the upper 70s and low 80s through the afternoon.
We could use the rainfall, now being down more than an inch on the month of September. The latest US Drought Monitor will be released later today and is expected to show abnormally dry conditions in our area.
Fall officially begins on Saturday, early in the morning at 2:47 AM.
We will be watching the Georgia and South Carolina coasts as we approach the weekend. There is a slim chance of a tropical storm, which would be very weak, forming along a stalled boundary. If this were to happen, it would create less-than-ideal conditions for the beach this weekend, and that's about it.
The system should stay off to our east.
7 Day Forecast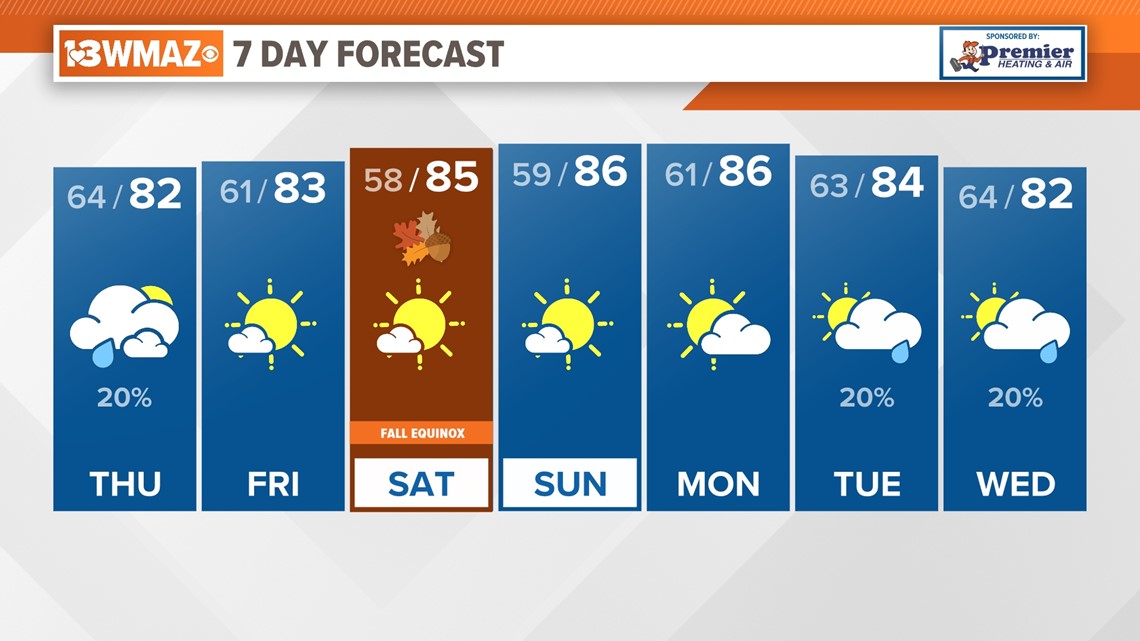 STAY ALERT | Download our FREE app now to receive breaking news and weather alerts. You can find the app on the Apple Store and Google Play.
STAY UPDATED | Click here to subscribe to our Midday Minute newsletter and receive the latest headlines and information in your inbox every day.
Have a news tip? Email news@13wmaz.com, or visit our Facebook page