More Than A Number: Victim's Resource Guide
More Than A Number's goal is to give a face to the victim and a voice to the family.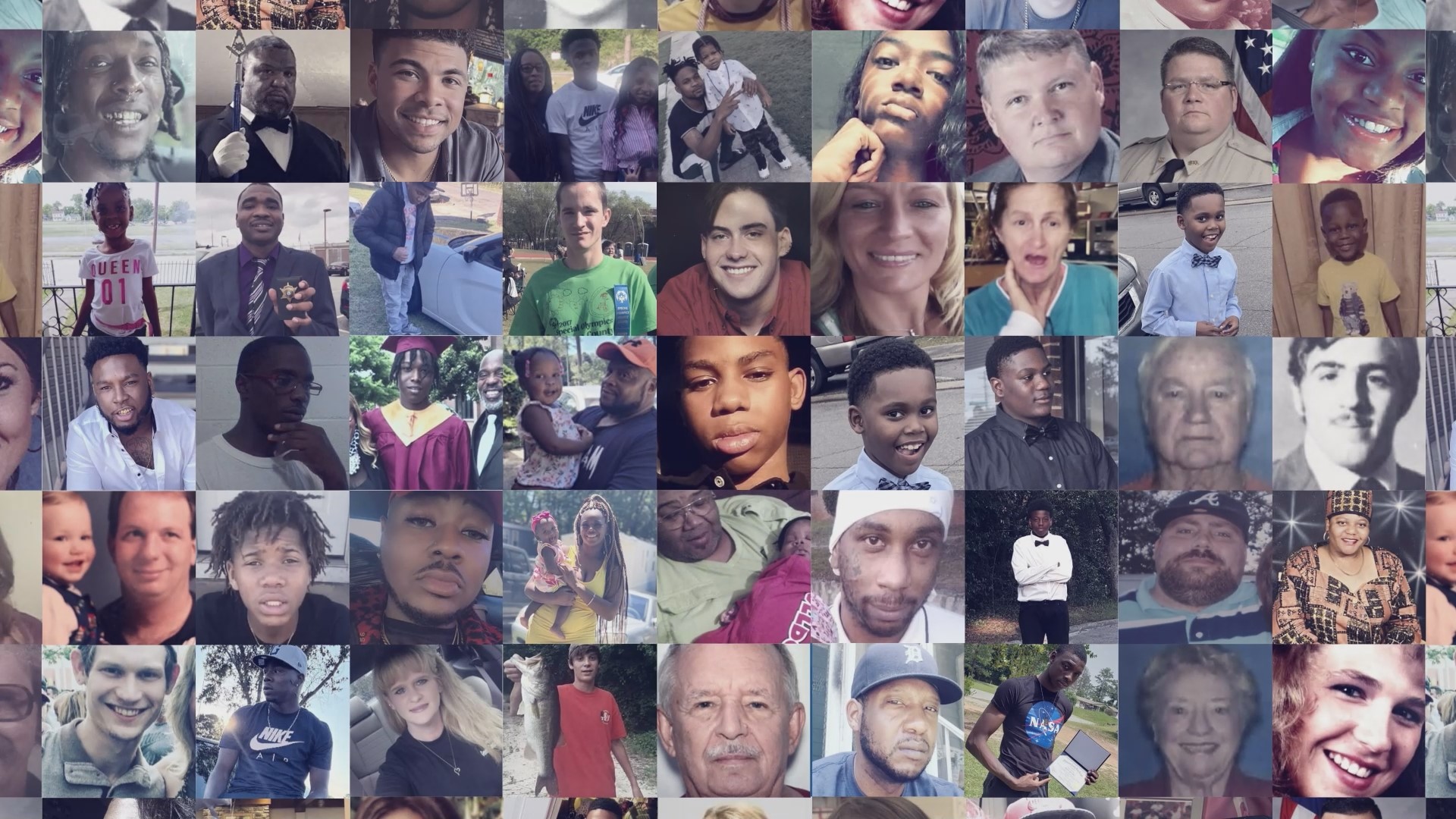 First, from everyone here at 13WMAZ, we are sorry for your loss.
We understand that this is a difficult time for you. We hope to make the process less painful with our initiative, More Than A Number.
This page is designed to help you know what resources and rights are available to you.
The initiative's goal is to give the victim a face and a voice to the family and give the family more control over the process. In addition, to the resource guide, is a survey page to give families and friends the opportunity to remember their loved ones and share their stories with the community.
The First Steps
:
Notify friends and family: This one may seem obvious but many times after receiving traumatic news we can forget to reach out to other loved ones. One suggestion is to designate point people to get the message out faster. By letting multiple people the messenger it allows you to get that information out faster while also allowing those closest to the victim to not have to call each person.
Qualified clean-up crew and homeowner's insurance: If your family member was killed in their home or their car, there are companies that can clean the scene up so you don't have to suffer that trauma. One thing people may not realize is that homeowner's insurance can sometimes cover the clean-up cost for blood, stains and odors, according to Aftermath, a clean-up crew that works with victim's families.
Notify the employer of the victim: Ask about benefits, any pay that may be due including vacation and sick time. They can also check on disability and any life insurance policies.
Additional documents you may need:
Death certificate
Life insurance policy information
Social Security information
Homeowners Insurance
Victim's will
The Georgia Crime Victims Compensation Program
The Georgia Crime Victims Compensation program can provide up to $25,000 to crime victims' families to "assist victims with expenses they incurred as a result of a violent crime and encourage victims to participate in the criminal justice system," according to the program's website.
In six questions, you can find out if you are likely to qualify for the support, and then what next steps are required to apply for the program.
To take the qualification quiz, you can click here. To find out more general information, you can visit the program's website here.
Here are some of the basics about the Georgia Crime Victims Compensation Program.
Were physically injured or witnessed a violent crime
Suffered serious mental or emotional trauma as a result of being threatened or being present during a violent crime
Were hurt trying to help a victim
Are the parent or guardian of someone who was killed or injured as a result of a violent crime
Depended on someone for financial support who was killed as a result of a violent crime
Are not the victim, but have been paying bills related to the crime
Have a child who was the victim and you relied on the offender for financial support
Were the victim of family violence who relied on the offender for financial support
TYPES OF EXPENSES COVERED
The program covers the following types of expenses, up to the limits noted. The maximum program award is $25,000 per victim, per victimization.
Medical Expenses: up to $15,000
Funeral Expenses: up to $6,000*
Counseling Expenses: up to $3,000
Lost Wages Expenses: up to $10,000
Loss of Support Expenses: up to $10,000
Crime Scene Sanitization: up to $1,500
REPORTING REQUIREMENTS AND FILING DEADLINES
The victim/witness must have reported the crime to the proper authorities within 72 hours of the crime, (unless good cause is shown).
For crimes occurring prior to July 1, 2014, an application must be filed within 1 year of the crime, unless good cause is shown (a claim submitted 3 years after the victimization cannot be considered).
For crimes occurring on or after July 1, 2014, the victim/witness must file a claim within 3 years of the crime or the death of the victim. However, if the victim is a minor at the time of the victimization, he or she can file an application until 3 years after his or her eighteenth birthday. If good cause is shown, the Board may extend the time for filing a claim.
MOST COMMON COMPENSABLE CRIMES
Child Molestation
Cruelty to Children
Child Abuse
Human Trafficking
Sexual Offenses
Domestic Violence
Reckless Conduct
Homicide
Homicide by Vehicle
Hit-and-Run
Serious Injury By Vehicle
DUI Crashes
Assault/Battery
Robbery
Victim's Rights
:
To be treated fairly and with dignity by all criminal justice agencies involved in the case
To proceedings free from unreasonable delay
To be notified of the availability of victims' compensation, which is available under the Georgia Crime Victims Compensation Program at (800) 547-0060 or www.cjcc.ga.gov
To be notified of the Georgia Crime Victims Bill of Rights
To be notified of community-based victim service programs
To reasonable, accurate and timely notice of the following:
An arrest warrant being issued for the accused
The accused's arrest
The condition that the accused is prohibited from contacting the victim
The accused's release or escape from custody
Any court proceeding where the release of the accused will be considered
Any scheduled court proceedings or any changes to such proceedings, including restitution hearings
The accused's release on an electronic release and/or monitoring program
Services
:
From counseling to groceries
Groceries
Various places around Central Georgia offer things like groceries to families in need. District Attorney Anita Howard and her staff have put together a guide for some of the various services in the area. Here is a list of the options listed under groceries. The link to their full resource guide can be found here.
Salvation Army is located at 1955 Broadway in Macon. They are open Monday through Friday. Their hours are 8-11:30 a.m. and 1-3 p.m. You must bring a photo ID, SS cards, proof of income and residency. It is available every 90 days.
St. Peter Claver is located at 131 Ward Street in Macon. Every second and fourth Wednesday of the month at 11 a.m. ID is required.
Macon Outreach at Mulberry located at 267 First Street allows you to set up appointments on Wednesdays for the following week. In order to set up an appointment, you must call (478)743-8026 from 2:20-4 p.m. on Wednesday. A photo ID, social security card and proof of residency are required. This can be done every 90 days.
Loaves and Fishes Ministries is located at 651 MLK Boulevard. Call (478)741-1007 at 1 p.m. on Friday to set up a Wednesday pickup.
First Baptist Church of Christ is located at 511 High Place in Macon. The Crisis Closet is open on the 4th Monday of each month from 10 a.m. to Noon. Photo ID is required.
Storehouse Ministries is located at 3396 Napier Avenue. Call (478) 750-9114 from 9:30 a.m. to 3:30 p.m to set up an appointment for Tuesday pickup.
Greater Allen Chapel AME Church is located at 269 Pursley Street in Macon. They are open on Tuesday and Thursday from 10 a.m. to 2 p.m. Call and check the availability at (478)745-4646.
Counseling
Family Counseling Center of Central Georgia
Location: 277 MLK Jr. Blvd., Suite 203 in Macon
Services: It is a private, non-profit agency that includes crisis counseling.
Phone Number: (478) 745-2811
Family Counseling Center of Central Georgia-Jones County
Location: 300 W. Clinton Street, Suite I
Services: It is a private, non-profit agency that includes crisis counseling.
Phone Number: (478) 986-0387
Mercer Family Therapy Center
Location: 655 First Street
Services: They offer slide scale billing for patients.
Phone Number: (478) 301-5970
Hephzibah Behavioral Health Services
Location: 6601 Zebulon Road
Services: They offer crisis intervention, accept medicaid and also offer slide scale billing
Phone Number: (478) 476-0805
Location: 170 Pierce Avenue
Services: They offer children's counseling. They only accept private insurance
Phone Number: (478) 330-6271
Location: 640 Plum Street, Suite 202
Services: They see patients on Wednesday and Thursday. They also accept Medicaid
Phone Number: (478) 971-4684
Community Development Systems
Location: 577 Mulberry Street, Suite 900
Services: They offer family victim assistance counseling
Phone Number: (478) 743-8333
The Rainbow House Children's Resource Center
Location: 108 Elmwood Street, Warner Robins
Services: They offer counseling for children as well as parenting classes. All services are free of charge.
Phone Number: (478) 923-5923
Financial Services
Northminster Presbyterian Church
Location: 565 Wimbish Road
Services: If funds are available.
Phone Number: (478) 737-1186
GreenPath Financial Wellness
Location: 901 Washington Avenue
Services: Is a trusted national nonprofit with more than 60-years of helping people build financial health and resiliency.
Phone Number: 1-800-550-1961
Partnership for Prescription Assistance
Services: They help with prescription costs.
Phone Number: 1-888-477-2669
Services: Call on Wednesday at 8:00am for an appointment if funds are available. Must be employed or self-sufficient to qualify
Phone Number: (478) 746-8572
Family Advancement Ministries
Services: Help for families with children 6 & under. Call for an appointment. Appointments are set for Monday through Thursday from 9 a.m. to noon.
Phone Number: 478-745-7165
St Vincent de Paul Society
Services: Call and leave your name and number. Calls are returned on Monday, Wednesday, and Friday.
Phone Number: 478-745-7000
Additional Resources
:
Guides from other organizations that you may find helpful
For additional services and more specific help on resources you made need, check here. It allows you to find help in your area based on your zip code and includes things like help with food, transportation and more.
The CJCC also has an additional Community Resources Directory for Victim Assistance Programs in PDF form on its website. This ranges from help from the following things:
Family Violence Agencies
Child Advocacy Programs
Sexual Assault/Human Trafficking Services
Community Programs
District Attorney Anita Reynolds Howard and her team also have a guide to make sure you don't have to go through this alone. You can find their guide here.
The Victim-Witness Assistance Program has created a comprehensive Middle Georgia Community Resource Guide to help you figure out what you need and how to get help.
If you are an organization that can help victims please reach out here to have your organization or program added to the More Than A Number victim's resource guide.
MORE THAN A NUMBER:
More Than A Number is a Poynter-Stand Together award-winning project by Justin Baxley designed to help families of loved ones impacted by tragedy and trauma interact with journalists in a less intrusive way.
More Than A Number will officially launch in August with a streaming special available on 13WMAZ+ for on-demand streaming. For any questions or concerns about More Than A Number, contact us here at the following email.